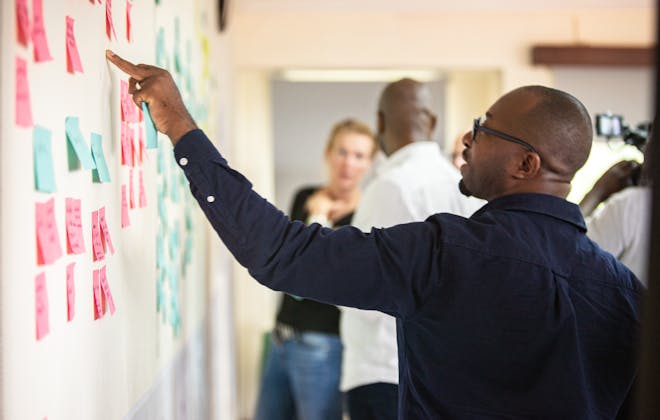 Group Leadership
Wouter van Hulten

Chief Executive Officer

Wouter is an internet pioneer with 20+ years of industry experience. Wouter cofounded in 1997 the first carrier neutral data centre in Amsterdam - SpeedPort, modelled after AboveNet and the Palo Alto Internet Exchange in California.

In 1999, he was part of the founding team of Interxion, which became Europe's leading data centre operator 20 years later. He initiated the Swiss Internet Exchange Swiss-IX in 2001, and the French France-IX in 2009. In July 2016, whilst at Interxion, he founded PAIX to focus 100% on the data centre opportunity on the African continent. He initiated and co-founded the Africa Data Centres Association in 2018, and is currently a board member.

Wouter grew up in Mali and Burkina Faso and graduated from Imperial College London with a Masters in Software Engineering, and received his MBA from INSEAD.

Lameck Muriithi Nyaga

Chief Financial Officer

Lameck is an enterprising, extroverted and customer-focused Business Executive with a natural ability for building new businesses and forging loyalty with clients, vendors and external business partners. He's highly knowledgeable in business operations with a notable track record of delivering record-breaking improvements for highly competitive businesses.

He has over 16 years of experience in various sectors including Financial Services, FMCG, Investments, Real Estate, Energy, and Professional Services. He has extensive knowledge and expertise in strategy, business operations, investments, and corporate finance in start-ups and established organizations. Lameck started his career at PwC and has served in the senior leadership teams at AFEX Commodities Exchange and Anjarwalla & Khanna as the Group CFO. Before joining PAIX, Lameck served as a Finance Director, Portfolio Operations at Centum Investment Company Plc.

Lameck holds a First Class Honours BA in Economics from Egerton University and an MBA for Executives (Distinction) from Strathmore Business School in collaboration with IESE, and is a Certified Public Accountant of Kenya (CPA(K).

Lynette Muema

Human Resource Manager

Lynette is an experienced HR professional highly skilled at recruitment, on boarding, employee relations, strategic HR planning and general HR operations with previous work experience across various industries including telecommunications, ICT and advertising.

She is a member of the Institute of Human Resource Management in Kenya and holds a Higher Diploma in Human Resource Management and a Masters in Management and Organization Development from the United States International University-Africa.

Vanessa Hiette

Legal Counsel

Vanessa is an international legal counsel with over 18 years of experience in the telecommunications industry, holding dynamic roles in multinational corporations worldwide. Vanessa is also a certified mediator, showcasing her dedication to conflict resolution.

She's an esteemed alumna of Paris University, possessing a Master's Degree in Law from the renowned Pantheon-Sorbonne and Paris V – Descartes.

Robert Lavies

VP Development

Robert is a Legal and Investment Professional with 15+ years of experience in corporate and solar energy investments in Europe and Southern Africa.

Robert worked in M&A advisory with Lincoln International, Kempen & Co and Morgan Stanley in Frankfurt, Amsterdam and London. Robert obtained his legal qualification as an M&A lawyer with De Brauw Blackstone in Amsterdam and London.

Robert graduated from Leiden University, University of Amsterdam, Sciences Po Paris and London Business School.

Richardt Dannhauser

Director of Operations and IT

Richardt is a seasoned professional with over two decades of experience in Operations, IT, and Systems management. Renowned for his problem-solving skills and talent for driving transformative change, Richardt has held C-level positions at industry leaders for the last 10 years where his leadership has set new standards of excellence.

In 2020, Richardt earned a Master's Degree in Information Systems Management from the University of Liverpool, blending his practical experience with academic achievements. His unique blend of expertise positions him as a visionary leader, capable of translating complex technical concepts into actionable strategies.